Jesse Gonzales Sr is the 2020 Latino Community Leader Award Winner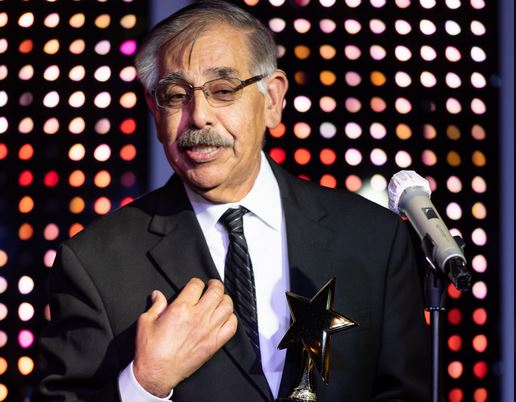 This year, at the Talentos Latinos Awards from Latinos On Michigan TV, Jesse Gonzales Sr., was honored with an 2020Latino Community Leader Award. He is a community organizer who has worked for the Hispanic community in southwest Detroit for more than five decades, always with the goal of improving the lives of many people in that area.
In 1964 Jesse Gonzales Sr, came from Texas with his family to southwest Detroit, and since then for more than 56years, he has been involved in his community in a variety of roles.
He was an IUAWW organizer at Ford Motor Company, where he worked for 35 years before retiring. He has also participated in civic and community initiatives through non-profit organizations. There is no community event where Jesse is not seen participating in support of Hispanics.
Jesse Gonzales Sr's passion for his community and residents also extends to working with the agencies responsible for the safety of the residents of Southwest Detroit, such as the fire department and the police department, among others. In fact, he has worked with the fire department to promote fire safety, distributing smoke alarms and detectors to families and seniors in the area.
And his constant communication with the police has allowed the identification of houses where drugs were sold, and even the discovery of abandoned houses and cars. His community work is so valuable, it has been a bridge between the Border Patrol to work with the community in a respectful but effective way.
Jesse has been a member of the citizen emergency response team called CERT, which educates its members about preparing for disasters that may affect their area and teaches basic response skills such as fire safety, rapid search and rescue, and in the event of an emergency, the Detroit Department of Homeland Security would contact Jesse to help the community in that area.
Jesse Gonzales Sr also graduated from the FBI Citizens Academy and the Detroit Police Academy some time ago, and over the years has developed strong community ties between Southwest Detroit residents, nonprofits and government agencies, and he has partnered with local law enforcement to develop neighborhood policing and activities to protect and educate residents of southwest Detroit about crime.
His love for the community is so great that since 1975, he has voluntarily impersonated Santa Claus to bring joy to children during different Christmas events. For that unconditional commitment to improving his community, Jesse Gonzales Sr., received the 2020 Latino Community Leader Award from the Talentos Latinos Awards from Latinos En Michigan TV. .,