GRCC receives second grant from Metallica's All Within My Hands Foundation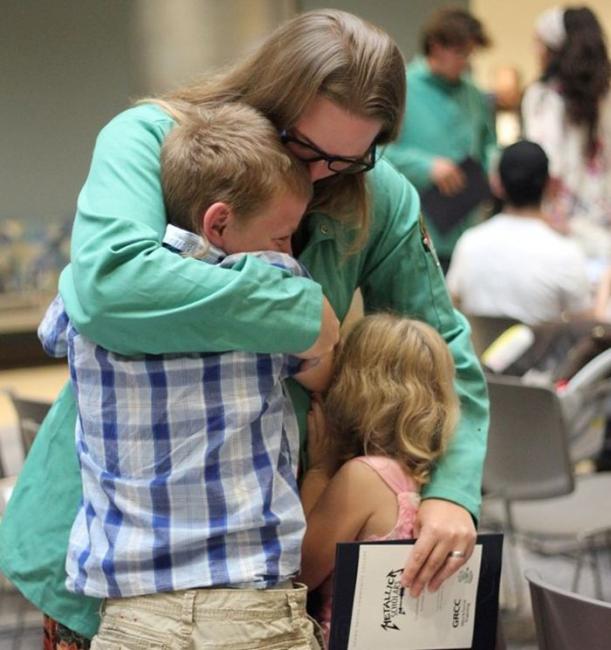 A second grant from Metallica's All Within My Hands Foundation will allow Grand Rapids Community College to help more nontraditional students gain in-demand welding skills.
GRCC was one of 10 colleges selected nationwide for the initial Metallica Scholars grant in 2018. Metallica's All Within My Hands Foundation has teamed up with the American Association of Community Colleges on the project, which provides workforce training for community college students and reinvests in cities where the heavy metal band has toured.
With the first round of funding, GRCC launched an intensive welding program that takes less time to complete than traditional courses. It also features smaller class sizes with flexible scheduling options and career preparation assistance.
"With the first group of Metallica Scholars, we saw people who had their lives changed by the opportunity to rise above challenges and gain these new skills leading to rewarding careers," GRCC President Bill Pink said. "We are so proud of the partnership with All Within My Hands and AACC, but also the local partners who connected us with students. This is a perfect example of people working together to create opportunities. We are thrilled to continue."
GRCC partnered with The Women's Resource Center and Hispanic Center of West Michigan to identify potential students who were looking for new careers and education opportunities after experiencing difficult life circumstances.
Krista Steffens was one of the first Metallica Scholars graduates and is part of an apprenticeship program.
"When I found out I was selected to the scholarship program, I was overjoyed," she said. "I think I found my niche. I like working independently. I turn on my music and weld away! Thanks, Metallica."
"Our 2019 Metallica Scholars have exceeded expectations and inspired us in more ways than we could have possibly imagined," said Metallica's Lars Ulrich in a statement released by the . "We're really excited to be able to expand the initiative in its second year, assisting more students in achieving their dreams and transforming their lives in 2020."
GRCC will use its second $50,000 grant to expand this life-changing program to more students.
"We are honored to work with an organization that values the education and opportunity skilled trades offer our community as we do," said Julie Parks, executive director of Workforce Training. "This additional grant will allow us to expand our already successful efforts to train more individuals for good paying jobs."
The grant's impact will be felt beyond GRCC: According to the September 2019 West Michigan Talent Assessment & Outlook Report, manufacturers are already concerned about the large number of retirements they expect over the next five to 10 years. GRCC worked with the employer-led Discover Manufacturing Leadership Committee on the program to fill this talent need. Area employers, including Rapid-Line Inc., DeWys Manufacturing and Ridgeview Stamping, provide work-based learning opportunities and welders to serve as mentors to students in the program. They also hire students who complete the training.
"The impact of the Metallica Scholars Initiative has been extremely gratifying" said Dr. Edward Frank, executive director of All Within My Hands. "We are indebted to all the schools, the AACC, and co-sponsors for their dedication to making this program successful and their help in changing the lives of so many people. This transformative effect is exactly what the band and the board had hoped for when we started this program."
"The colossal reputation of Metallica has given these colleges, and the trades they are supporting, new life and attention," said Jennifer Worth, AACC senior vice president of Workforce and Economic Development. "It has been an honor and a privilege to have the band's and foundation board of directors' trust to design and implement programs that will change the lives of hard working Americans looking to advance."
Grand Rapids Community College has been offering educational opportunities in West Michigan for more than 100 years. Established in 1914, the college offers degree courses, certification and training programs, and workshops and personal enrichment classes. Offerings are held on GRCC's downtown Grand Rapids campus, and at several locations throughout Kent and Ottawa counties, as well as through distance learning.